G-OnRamp goals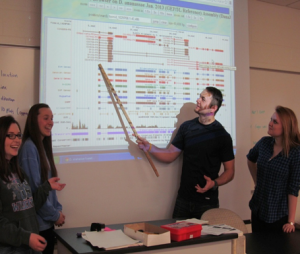 The G-OnRamp project combines two successful and long-running projects—the Genomics Education Partnership (GEP) and the Galaxy Project. It aims to create an integrated, web-based, and scalable environment that enables biologists to utilize large genomic datasets for the interactive annotation of any eukaryotic
genome. It will also serve as a platform to introduce undergraduates to "big data," to train them in one type of analysis (genome annotation) that is based on using large datasets.  We hope that this introduction will increase the students' confidence in working with computers, and lead them to seek out additional opportunities for using big data in problem solving, particularly in biomedical analyses.

 Why G-OnRamp
We have developed a Galaxy workflow that produces multiple complementary datasets to facilitate gene annotation in any eukaryotic genome using the UCSC Genome Browser and JBrowse. Key features of G-OnRamp include the following:
Designed to work with eukaryotic genomes
Web-based platform; end users do not need to install any software
Perform analysis through a graphical interface; no programming skills required
Tools, workflows, and visualizations can be optimized for each species
Produce evidence tracks using multiple bioinformatics tools:
Including
Gene models from several gene predictors
Expression data from RNA-seq
Sequence similarity results from BLAST
Sequence similarity results from BLAT
Repetitive regions such as transposons and tandem repeats using Tandem Repeats Finder (TRF)
Visualize the analysis results on the UCSC Genome Browser and JBrowse
Download the Assembly Hub files and host the Assembly Hubs on your local web server
Transfer G-OnRamp output to the CyVerse Data Store for long-term storage and visualization
Convert JBrowse Hubs to Apollo instances for collaborative genome annotation
For more about G-OnRamp features, see Features.
How to use G-OnRamp
G-OnRamp is a Galaxy workflow that turns a genome assembly and RNA-Seq data into a Genome Browser with multiple evidence tracks. Because G-OnRamp is based on the Galaxy platform, developing some familiarity with the key concepts and functionalities of Galaxy would be beneficial prior to using G-OnRamp. The overview of Galaxy lecture in the Learning Materials section provides a basic introduction to the Galaxy Project and some of the key concepts in Galaxy (i.e. Datasets, Tools, Workflows, and Histories). The "Learn Galaxy" page on the Galaxy Wiki contains additional tutorials, screencasts, and presentations if you would like to learn more about some of the advanced features of Galaxy.
The Learn G-OnRamp page provides detailed descriptions of the tools and sub-workflows used to construct the G-OnRamp workflow. The Learning Materials section includes links to lectures and step-by-step walkthroughs on how to use G-OnRamp and how to customize the G-OnRamp workflow for your own projects.
Acknowledgements
The pictures of the species are Amazona vittata by Tom MacKenzie; Kryptolebias marmoratus by Jean-Paul Cicéron; Sebastes rubrivinctus by Chad King (SIMoN / MBNMS); Xenopus laevis by Brian Gratwicke; and Chlamydomanas reinhardtii by Dartmouth Electron Microscope Facility, Dartmouth College; Tetrahymena thermophila by Richard Robinson; Thlaspi arvense by Kristian Peters; Solenodon paradoxus by Seb az86556; Fragaria vesca by Oxfordian Kissuth; Red siskin by Siskini; Centrapalus pauciflorus by Clarence A. Rechenthin; Xestospongia bocatorensis by van Soest, Rob; Drosophila miranda by obbardlab; Bemisia tabaci by Agricultural Research Service; Ganaspis species 1 by van Noort S, 2017.